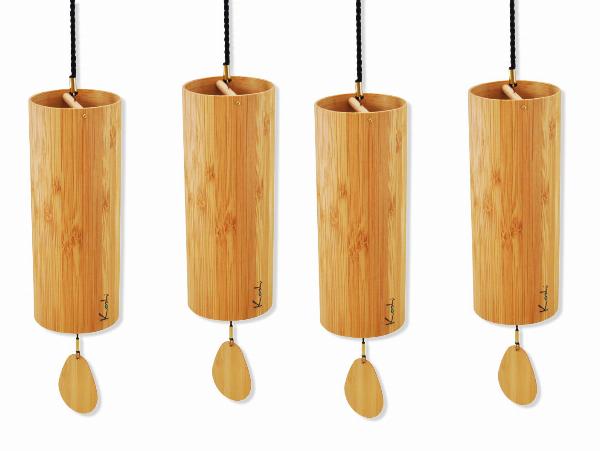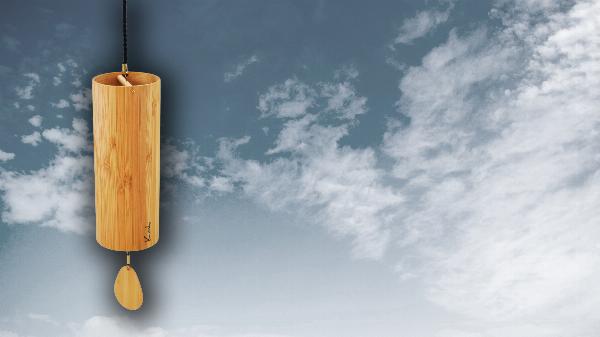 Aria (Air) - Mystical, limitless, thoughful - Tuned to A C E A B C E B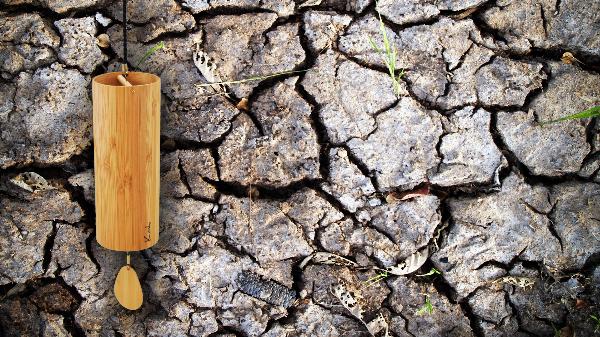 Terra (Earth) - Happy, hopeful, the beginning of life - Tuned to G C E F G C E G.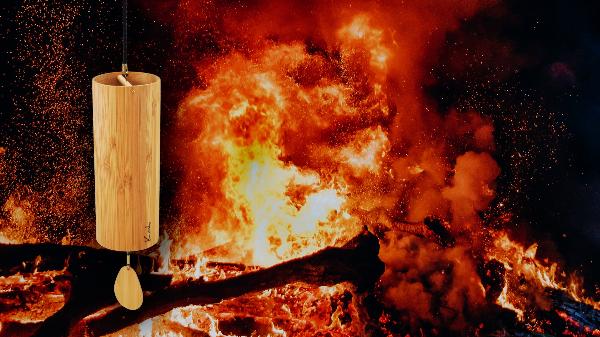 Ignis (Fire) - Intrigue; the beginning of thought - Tuned to G B D G B D G A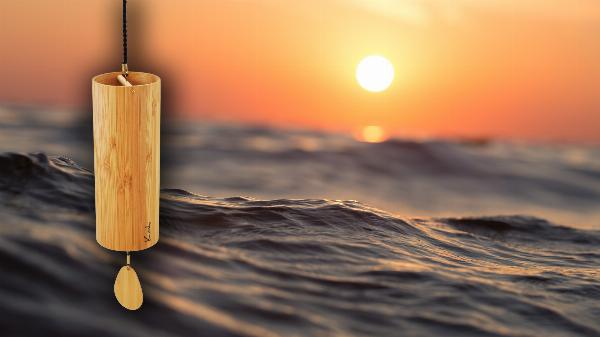 Aqua (Water) - Challenging, thoughful - Tuned to A D F G A D F A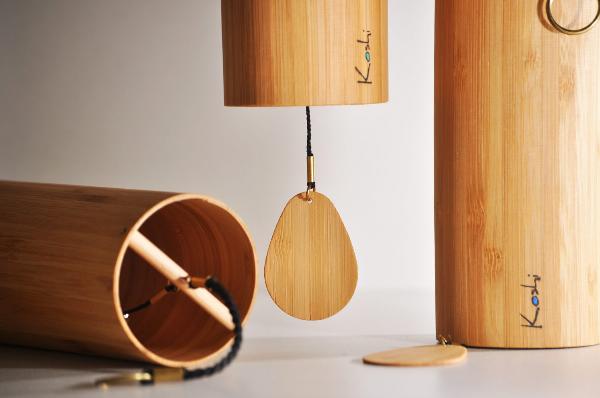 A unique take on the traditional Wind Chime, Koshi Chimes are designed to provide a rich and deep sound, enriched via the resonating bamboo tube.
"Aqua", "Terra", "Ignis" and "Aria" are the latin words for "water", "earth", "fire" and "air" respectively -- the four elements. Each of these chimes has been inspired by these four base energy elements, creating a characterful energy that can help bring reflection in meditation. Together, all four work in harmony and can transport you to other realms.
Hand made at the foot of the Pyrenean moutains in France, 8 metal rods provide the elegant soundscape (listen to the sound samples below).
Each chime has a cylinder Diameter of 6.3cm, and a cylinder Length of 16.5cm.
Buy this set for £130, or any 2 for £72.
The Koshi Brand
The Koshi Chimes are designed to sound even better together, in any combination! Play with the audio clips below to find you favourite combination.
And don't forget, you can buy any 2 Koshi Chimes for £72 -- Any 4 for £130
Terra:
Aqua:
Aria:
Ignis:
What Our Customers Have to Say About Our Service...
"Hi, I just wanted to e-mail and say thank you!!! I placed an order with yourselves on Monday and am delighted that my beautiful wind chime arrived today!!! The picture of the wind chime on your site is fantastic, however, the beauty of the chime in reality is much more than shown in the picture!!! Your service is fantastic and i will be recommending you to friends and family. Thank you again for a beautiful chime and fantastic service and fast delivery!!!!"
"Thank you Ben the service I have received has been excellent, will certainly recommend to others."
"Query: I just wanted to say how fantastic these wind chimes are. I have wanted to get one of the larger sets for a few months and have even dreamed about them in my sleep. Unfortunately having saved enough I missed out on the set I wanted to get but I did however buy anther set that I also thought was beautiful. I continue to now save up for the big set and also another set that i have viewed on your site, now having found where i can get them from. This is just to solely say absolutely brilliant! The sound and craftsmanship is outstanding. I totally appreciate what goes into making a set of these having engineering training and some musical background. Thank you again "