Sign up to our Newsletter...
Wind Chimes Corner - Your Online Shop for Garden Wind Chimes in the UK
The place to be to buy the best selection of Wind Chimes at the Best Prices in the UK.
We source Wind Chimes from all over the world and work hard to make sure we provide the best customer service!
Large Wind Chimes for the Garden or Small Chimes for Your Home, or your favourite brands like Woodstock Percussion, Koshi Chimes and Corinthian Bells - You'll find them all here in our online Shop.
We pride ourselves on our friendly and professional family customer service and strive to source the best Wind Chimes from all over the world.
Want to know more?
Read our latest blog post about the interesting history of these relaxing chimes.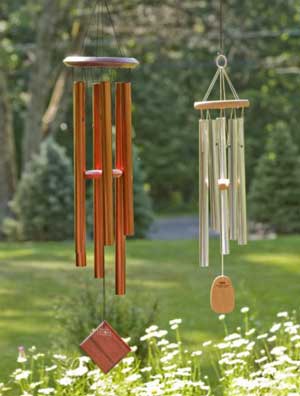 We're celebrating our 13 year anniversary...
We started as a small family business in February 2008, and now we ship thousands of chimes each year from manufacturers all over the world.
The Most Popular Wind Chimes Brands from Around the World...
What Our Customers Have to Say About Our Service...
"Thank you for the quick response to our emails. Your customer service is outstanding. We love the windchimes. We will definitely tell people about your website. "
"Dear Ben What efficiency and speed. I received the wind chimes yesterday in prestine condition and they are beautiful. I shall be ordering again shortly."
"Query: I just wanted to say how fantastic these wind chimes are. I have wanted to get one of the larger sets for a few months and have even dreamed about them in my sleep. Unfortunately having saved enough I missed out on the set I wanted to get but I did however buy anther set that I also thought was beautiful. I continue to now save up for the big set and also another set that i have viewed on your site, now having found where i can get them from. This is just to solely say absolutely brilliant! The sound and craftsmanship is outstanding. I totally appreciate what goes into making a set of these having engineering training and some musical background. Thank you again "
Out Current Best Sellers...